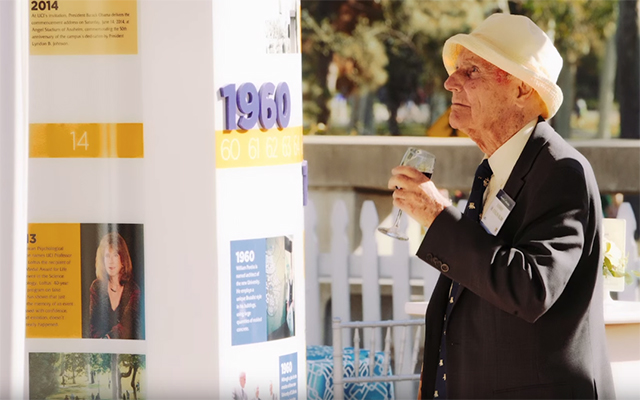 By Anna Iliff
What started as an endeavor to commemorate the 50th anniversary of President Lyndon B. Johnson's dedication of the campus in 1964 turned into a two-year celebration that honored the legacies of Anteaters through the ages and sparked UCI pride in the entire 'Eater Nation.
From President Barack Obama's commencement ceremony speech to the Festival of Discovery and the close of the $1 billion Shaping the Future fundraising campaign, UCI's 50th Anniversary has been filled with memorable moments and spectacular achievements. It's been a tremendous two years of giving back to the community, celebrating our past and building on our brilliant future.
"We have honored the past, we have celebrated legacy, we have recognized families, we have endeared ourselves in this community and we have highlighted the visibility of this institution, which I think is not only one of the best in the nation but one of the best in the world. We could not have done that without all of your help, all of your support, and all the countless hours of service," said Thomas Parham, vice chancellor of student affairs and 50th anniversary celebration planning committee chair.
To mark the end of UCI's blue and golden anniversary, hundreds of Anteaters gathered June 6 at the Student Center for a grand finale event. Complete with opportunity drawings for UCI memorabilia, a video tribute, and a dance party to music from decades past, the fete concluded with a roaring recognition of all who contributed to the massive anniversary projects over the last two years.