By Tonya Becerra
How often do the Homecoming king and queen actually get married? Maybe in the movies, but in real life?
Jeff Fulkerson '07 and Emily (Yee) Fulkerson '07 were crowned Homecoming king and queen at UCI in 2007. And they weren't even dating. That would come three years later. Eventually they married surrounded by many fellow Anteaters.
Jeff earned a bachelor's in information & computer science and now works as a software developer for 3M. Emily earned a bachelor's in biological sciences and is now a resident physician at UC Irvine Medical Center. She recently started her fellowship in child & adolescent psychiatry at UCI in July 2015.
Both were attracted to UCI by the Campuswide Honors Program. In fact, Jeff worked as a CHP advisor for three years after graduation. In between her studies, Emily found time to create the UTeach program on campus where undergraduates could develop and teach their own seminar classes. Jeff was a campus rep for three years and a resident advisor his junior and senior years for Arroyo and Loma in Mesa Court.
When did you two meet and how did you become a couple?
EF: We met on move-in day freshman year in Loma in Mesa Court in 2003.
Jeff had already moved in the prior day and when he saw me he told his roommate, "That is the cutest girl I've ever seen."
Sadly for him, I was still with my high school boyfriend. I met Jeff and his roommate briefly as they were kind enough to help set up my computer for me (I was a computer-illiterate bio major and Jeff was an ICS major).
A few months later, my boyfriend and I broke up. I realized that I had spent so much time with him, I didn't really know my dormmates very well. Jeff and his group always seemed to be having a good time, so I asked if I could hang out with them.
Quickly, we became good friends and almost started dating – but I didn't want him to be the rebound guy. He respectfully gave me my space. We ended up dating other people, all the while staying friends.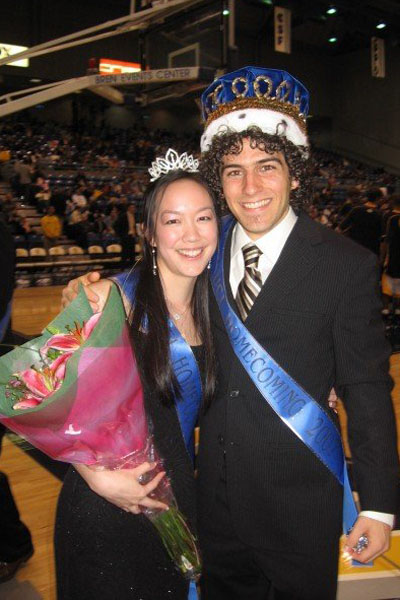 Jeff tried asking me out numerous times in college, but the timing was just never right. Everyone else but me, apparently, saw that we were meant for each other.
Senior year, Jeff decided to run for Homecoming king – rather unusual for an ICS major and honors student. Our Campuswide Honors Program advisor Ryan Lombardini suggested it would be cool if a girl ran too. I said, "Sure, why not?"
We had a lot of fun running together, and it ended nicely with us being crowned Homecoming King and Queen in 2007 – the first time ever for the king and queen to be CHP students and not part of a fraternity or sorority.
As graduation approached, I started to realize what a catch Jeff was, especially with him waiting patiently all throughout college, but again, the timing was bad.
I was moving to Texas for medical school and Jeff was staying in Irvine to work. Despite being in different states, we kept in touch.
In my third year of medical school, I fully realized just how perfect Jeff was for me. After a very awkward (on my part) conversation of admitting I had feelings for him, Jeff and I started dating. Eight months later, we were engaged. He proposed by serenading me with "Just the Way You Are" by Bruno Mars in a restaurant.
We married 10 months later on June 4, 2011. It was a beautiful wedding with lots of UCI Anteaters in attendance and in the wedding party!