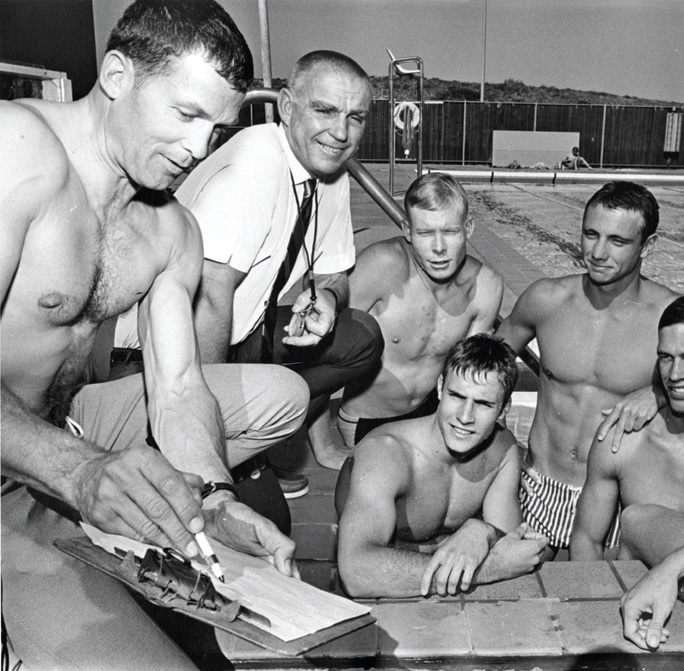 By Terence Loose
When I enrolled at UCI in the late '80s, I was unfocused, uninspired, and not very confident in my ability to find a future. UCI changed all that, but in a way that was totally unexpected. My roommates were water polo players and they encouraged me to come to morning workouts with them at 5 a.m. I wanted to get in better shape, so I agreed. The one potential roadblock was their coach, the legendary Ted Newland. He was tough, gruff, and scary as hell, so they literally snuck me into the weight room by letting me file in behind their 6'4" frames and told me to "try to stay out of sight." Coach Newland had to have noticed the small guy in surf trunks, but he never said a word to me—and never kicked me out.
About 6 a.m. every morning, we'd all follow Newland into the darkened "mat room" and do 1,200 to 1,500 sit-ups. It was grueling, torturous, but we were all so afraid of Newland's disapproval – me included – we'd do every last one.
After sit-ups, the team would hit the pool for laps and practice. Not being an Olympic-level swimmer, I couldn't join them, so I'd usually hit the weights again until they were done.
One morning, after months of working out with the team, Coach Newland came back up to the weight room—for what I can't remember—while the team was doing laps. I was the only one in the room and when he walked in, I was terrified. He marched right up to me and I felt sure I was about to get barked out of workouts for good.
"You know what, kid," he said. I looked up, ready to take the hit.
"You're tougher than all of 'em." Then he turned and walked out.
He never said another word to me. But he didn't have to. I saw then why he was a Water Polo Hall of Fame coach who had mentored so many national and Olympic players. I knew the words were not true in fact—his players were the toughest athletes I had ever known. But they were true in more important ways. Newland had given me respect, but only after I had earned it. That gave me a focus, a structure, and most of all, a reason to show up every morning, no matter how tough things got. And that is a gift that has helped me every day since.
*Image provided by AS-056. Early Campus Photograph Albums. Special Collections & Archives, the UCI Libraries, Irvine, California.