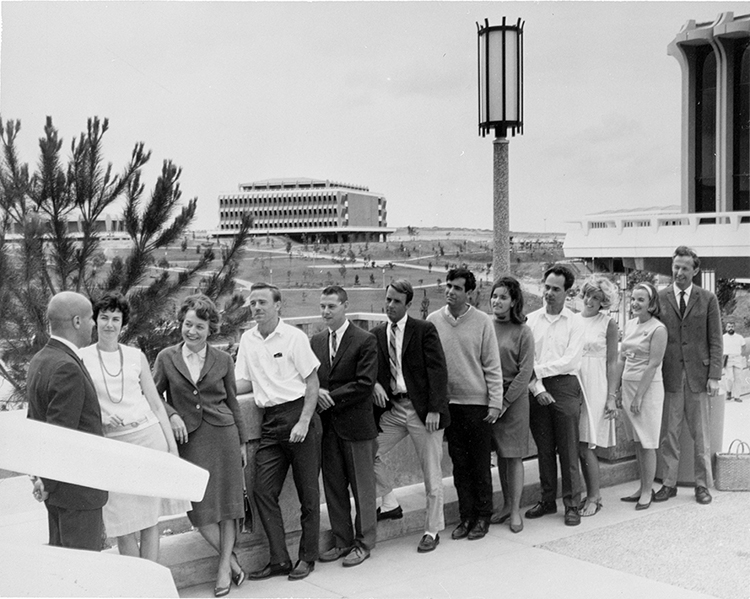 University of California, Irvine Commencement 2015
"Born Free" was a hit at the box office, and The Beatles' "Paperback Writer" topped the Billboard Top 100 when UC Irvine's first graduating class of 14 students received their diplomas on June, 25, 1966. In what is now the Libraries Gateway Study Center, they gathered with family and friends at tables topped by harvest-gold linens and shook the hand of founding Chancellor Daniel G. Aldrich, Jr.
What a difference 50 years makes.
This year, ceremonies for the 50th graduating class will stretch over four days in the Bren Events Center and 7,057 Anteaters will step out to make their mark on the world.
These students share the pioneering spirit of their predecessors. Nearly 50 percent are the first in their families to attend a top-tier university that is fertile ground for advances in medicine, technology, art, education, science and the study of the human condition.
They have become part of a history in which Nobel-prize winners have replaced cowboys. Writers of everything from Pulitzer Prize-winning fiction to computer code have supplanted campfire storytellers.  UCI is the youngest university to gain membership in the prestigious Association of American Universities and the top university under 50 years old in the nation – seventh in the world – as designated by the London-based Times Higher Education.
The original students, leaders and faculty who founded UC Irvine laid the foundation for rigorous academics, progressive research and interdisciplinary teaching, encouraging creative ideas and independent thinking. From the classrooms and labs, businesses are born, jobs are created and discoveries are made. UCI is a driving force behind Orange County's thriving economy – providing innovative ideas and a skilled workforce – while its research and teaching generate real-world impact that saves lives and communities.
We develop the doctors and nurses, the lawyers and community leaders, the educators, artists and business executives of tomorrow. And, we do all this on a campus that serves and appreciates students of diverse cultures who strengthen its academic and social fabric.
As we celebrate this 50th graduating class, we commit ourselves to making a difference through continued eye-opening innovation, life-changing discoveries and a character-building culture that make UCI a center of excellence of global pre-eminence. Our unstoppable Anteater spirit will enrich the future for everyone on the planet because of the promises we make and keep today.
We enthusiastically embrace the bold, the one-of-a-kind, the independent mind.  Those who see things differently. Who know differently. Those with the ability to shine brighter.
UCI. Shine Brighter.