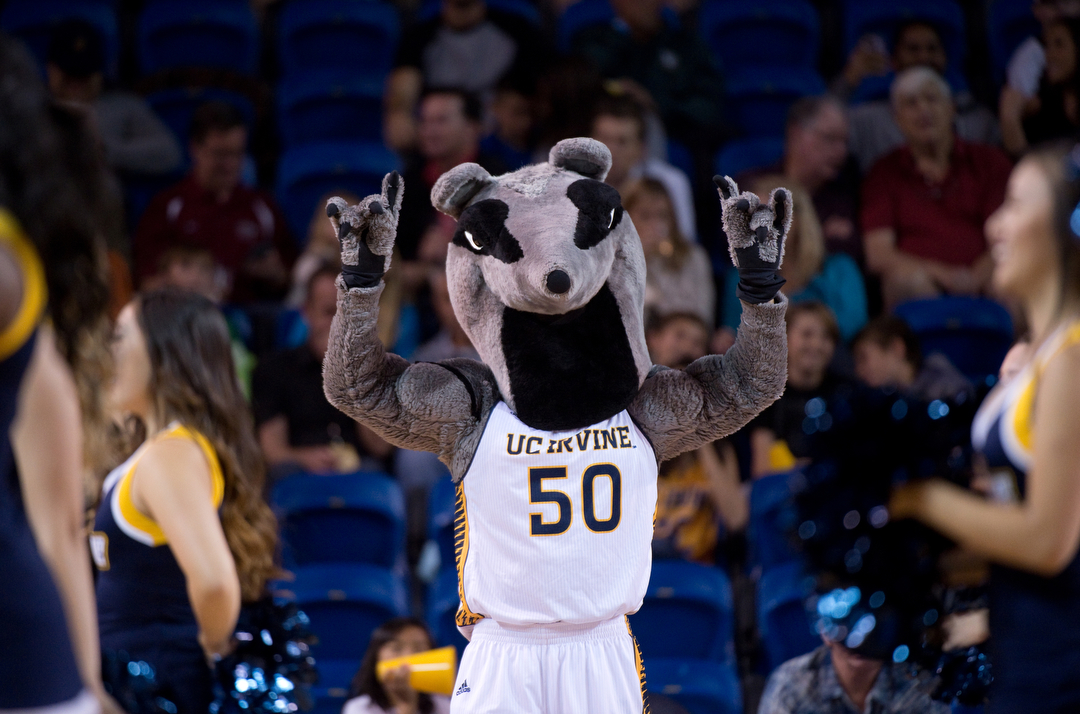 By Strategic Communications Staff
It was a year of birthdays. Of new starts … and looking back. Of exceptional achievements. Of being cool.
It was a historic year too, as the University of California, Irvine collectively celebrated its golden anniversary – taking time to reflect on the accomplishments that made UCI one of the world's best public universities while embracing a bright future of community and global impact.
Fifty never felt so good.
Once again, UCI faculty, students and staff achieved as never before in the classroom, in the lab, on fields of play and in society. So here's a top five list for 2015: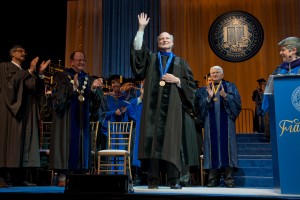 Howard Gillman invested as UCI's sixth chancellor
A new era began March 31 as more than 700 guests packed the Irvine Barclay Theatre to celebrate the investiture of Howard Gillman as the sixth chancellor in UCI's history. Officially taking the helm in the 50th anniversary year, Gillman outlined his vision for the campus's second half-century, which includes raising its reputation as a sought-after destination for top-flight faculty and students and extending its reach and impact across the globe.
He also announced that he'll work with deans and faculty to build a large research and educational facility devoted to the "convergence of science and engineering."
Health-related research today integrates previously separate academic disciplines, Gillman explained. Bioinformatics, synthetic biology, nanobiology, computational biology, tissue engineering, biomaterials and systems biology all reflect a convergence of research across the life sciences, the physical sciences, engineering, information and computer sciences, and the social and behavioral sciences.
"While we have exciting pockets on campus where these sorts of collaborations take place, we do not have the kind of facility that will allow big-scale research on a broad range of global challenges," Gillman said. "To my mind, the absence of such a facility on this campus is the single biggest impediment to transformational innovation in our core missions of research, education and service. If we're going to contribute to such vital fields … it's imperative that we be prepared to invest in such a structure."
Actor Cary Elwes, perhaps best known for his dual role as farm boy Westley and the Dread Pirate Roberts in the 1987 film "The Princess Bride," memorably emceed the event. A longtime friend of the chancellor, he urged UCI students to emulate Gillman by "thinking big."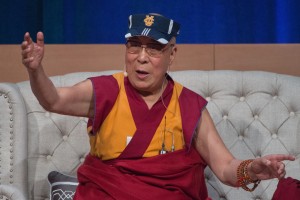 Dalai Lama chooses UCI to host his 80th birthday celebration
Of all the places in the world the XIV Dalai Lama could celebrate his birthday, he selected UCI to be his host. Making his third visit to campus, the Dalai Lama kicked off the fete July 5 with a rockin' party at the Honda Center of Anaheim. About 18,000 well-wishers gathered at the Global Compassion Summit to share in music, dancing, a mammoth cake and words of wisdom in honor of the Dalai Lama's 80th birthday. The spiritual leader, who says that every morning we awaken is a gift and a birth, seemed pleased to participate.
"I sometimes think that peace can come to the world, but not in my lifetime," he said after two hours of tributes from artists, scientists, social activists and educational leaders. "But if people really are showing such enthusiasm as this in different parts of the world, and they have the deep realization that the ultimate source of peace is within ourselves, then … it may be possible to have peace in the world in my lifetime."
The celebration continued the following two days with events at the Bren Events Center and a climate action picnic in Aldrich Park. The main message? World peace and the happiness of humanity begins with inner peace and personal happiness.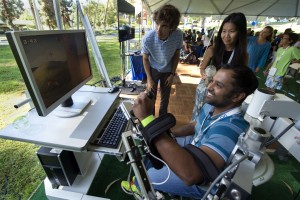 Festival of Discovery marks UCI's 50th anniversary
What's an anniversary without a party? This one was golden, and UCI opened its doors for the Festival of Discovery. The daylong gala of good health, great art, global impact and innovation had Aldrich Park hopping Oct. 3, from an early morning Family Fun Run to the closing of the last booth after 3 p.m.
Here's a by-the-numbers tally of the day:
10,000: Estimate of attendees
2,400: Cupcakes handed out to the crowd
1,500: Shaken Shakespeare performances enacted
802: Racers who signed up for the Anteater 5K & Family Fun Run
40: Seats in the My Virtual Dream tent sponsored by the School of Medicine and Department of Neurology (There were more than 80 people in line at one point.)
12: Hours by which the event escaped the rain
Inestimable: Memories created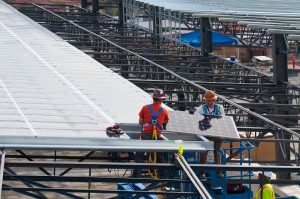 We're the coolest, again
It goes without saying that UCI – located near some of the finest U.S. beaches – is a cool place to be. But when one of the top environmental journals says it, it means something altogether different. For the second year in a row, the campus took the No. 1 spot in Sierra magazine's annual "Cool Schools" ranking of the nation's greenest colleges. It's the first time any university has repeated a No. 1 appearance and the sixth year UCI has placed among the top 10.
"We're thrilled that our successes in energy efficiency and greenhouse gas reduction – both in campus infrastructure and research – have garnered this recognition," said UCI Chancellor Howard Gillman. "We have people dedicated to zero-waste and water preservation projects, alternative energy research and more. ­It's a testament to a campuswide commitment from students, faculty and staff to preserve our planet and help create a greener and healthier Earth."
Factors that boosted UCI to No. 1 include three on-campus solar projects and energy efficiency goals that are consistently exceeded, according to the official magazine of the Sierra Club. The university's award-winning energy management program, which helps reduce its carbon footprint, has been in place for 26 years.
Also noted was the Sustainability Initiative, which aims to harness the university's scholarship and resources to develop new systems and cultures that no longer harm the planet – or people.
UCI faculty and students also excel. More than 200 faculty members conduct research and provide instruction on such topics as collapsing glaciers and sea level rise in Greenland and Antarctica, conservation biology across California, ocean health and water resources administration; climate change-related drought, famine, flooding, disease and poverty; and land-use planning, environmental law, public health and social justice. And the Global Sustainability Resource Center, a hub for student leadership and education, includes 22 campus clubs and programs with green themes.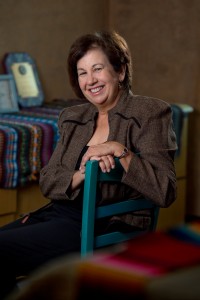 Vicki Ruiz receives National Humanities Medal from an old friend
With a hug and a pat on the back, UCI's good friend President Barack Obama – he gave the UCI commencement address last year, remember? – presented the 2014 National Humanities Medal to Vicki Ruiz, Distinguished Professor of history and Chicano/Latino studies. The Sept. 10 White House ceremony honored those who "share their gifts to make our lives and the world more beautiful, richer and fuller and, more importantly, help us understand each other a little bit better," Obama said.
Ruiz has spent her nearly 40-year academic career – which began with collecting oral testimony from Mexican immigrants who worked in U.S. canning factories – reclaiming the stories of Latinas who fought for civil and labor rights and, in the process, pioneering the field of Chicana/Latina history.
"I consider this award as one that recognizes the field of Latina history more than me as an individual," Ruiz said. "When I was a graduate student, I could not begin to imagine all of the stories awaiting interested scholars in public archives and personal memories. That said, I am deeply honored by this once-in-a-lifetime acknowledgement of my work."
The soft-spoken historian has written or edited several books, including the groundbreaking Latinas in the United States: A Historical Encyclopedia, which she co-edited in 2006. The three-volume set – with more than 600 entries and 300 photographs – documents contributions by Latina women to the economic and cultural development of the U.S.