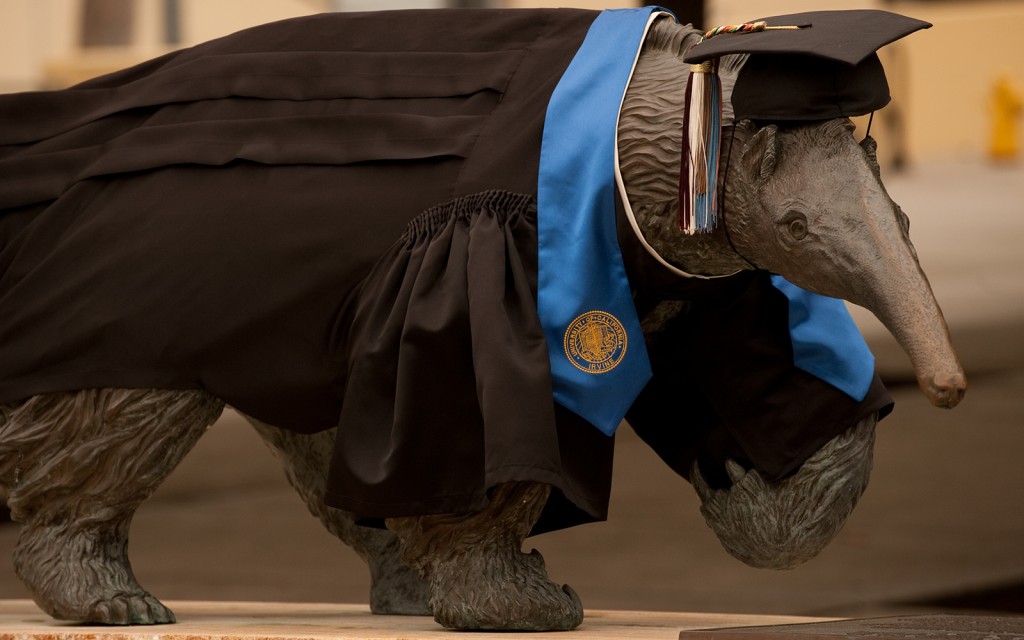 About the University of California, Irvine
Currently celebrating its 50th anniversary, UCI is the youngest member of the prestigious Association of American Universities. The campus has produced three Nobel laureates and is known for its academic achievement, premier research, innovation and anteater mascot. Led by Chancellor Howard Gillman, UCI has more than 30,000 students and offers 192 degree programs. It's located in one of the world's safest and most economically vibrant communities and is Orange County's second-largest employer, contributing $4.8 billion annually to the local economy. For more on UCI, visit www.uci.edu.
2015 Graduating Class By the Numbers
This year, UCI is graduating 10,169 individuals:
Doctoral candidates: 389
Master's candidates: 1,368
Baccalaureate candidates: 8,352
Credential candidates: 60
In addition, University Extension is awarding 2,045 certificates to 1,815 students
See also: Commencement 2015: By the numbers
University Enrollment Numbers (fall 2014)
Undergraduates: 24,489
Post-baccalaureates: 67
Graduate students

General campus: 4,888
Health sciences: 1,292

Total: 30,736
University Accolades
Among UCI's proudest accolades is our ranking as the number one US university under 50 years old, according to Times Higher Education.
UCI boasts being the youngest university to be invited to join the prestigious Association of American Universities.
Three UCI researchers have won Nobel Prizes, F. Sherwood Rowland and Irwin Rose in chemistry, and Frederick Reines in physics.
Orange County's only university hospital and Level I trauma center, UC Irvine Medical Center has been ranked among the nation's best hospitals by U.S. News & World Report for 12 consecutive years.
The Chao Family Comprehensive Cancer Center at UC Irvine Medical Center is the only Orange County facility to earn the National Cancer Institute's prestigious "comprehensive" designation.
More than 90 UC Irvine Health physicians are listed as "Best Doctors in America" by Best Doctors Inc., an organization that bases its selection on survey results from other physicians.
U.S. News & World Report ranks UCI's creative writing program – producer of such noted authors as Michael Chabon, Alice Sebold and Richard Ford – sixth nationally.
UCI athletics teams have earned 28 national titles in nine sports, and 63 individual Anteaters have won national titles; 50 have competed in the Olympics.