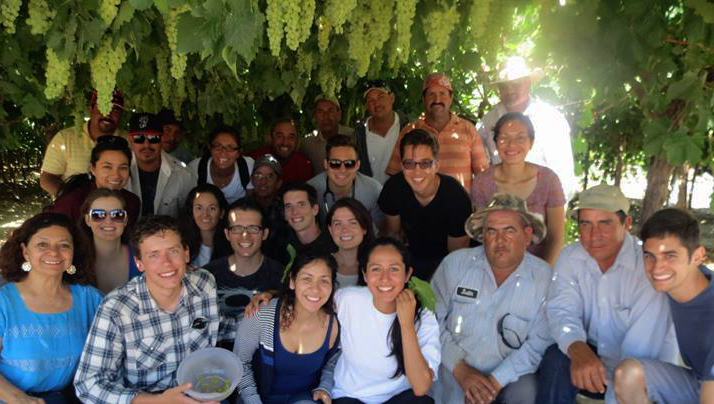 By Graciela Maldonado '19
Just before I started medical school at UCI in July 2013, I took part in a summer immersion experience for the Program in Medical Education for the Latino Community, or PRIME-LC. The eight-week program offered an in-depth look at the history of Latin America from pre-Hispanic times to today, culminating with a 12-day field expedition.
I was part of a group of 14 students who went to the U.S.-Mexico border in Tijuana to learn about some of the hardships faced by day laborers. The other students were Pedro Alvarez, Athena Arias, Victoria Cerda, Joel Johnson, Lesley Lara, Vincent O'Brien, Ana Ordaz, Gabriela Pauli, Kara Percival, Sam Saenz, Neil Saez, Olivia Sanchez and Caleb Shumway.
During our travels, we left gallons of water in the desert for those who risk their lives in search of a better life in the United States. On the bottles, we wrote encouraging messages, such as "¡Ya merito paisano!" ["Almost there, compatriot!"], and created makeshift portraits of the Virgin Mary, in case those who came across the bottles could not read. I suppose you could call our artistic media permanent marker on plastic-water-bottle canvas.
We then took a road trip to the fruitful fields of Fresno to hear from farmworkers. We got to see the low-income clinics they have access to as well as preschool programs for the children of migrant workers. Throughout these settings, we continually heard the same story.
"Nos rocian con pestisidas" ["We get sprayed with pesticides"], "Nos corren si nos quejamos" ["We get fired if we complain"] and "Esto afecta la salud de nuestros hijos y nadie dice nada" ["This is affecting our children's health, and no one speaks up"].
One evening, while enjoying dinner with the mayor of Madera at a local park near the preschool center we were visiting, a pesticide plane was flying too low and too close for comfort during high winds. With the encouragement of the mayor, I called the commissioner to report it. I felt empowered and like a true activist.
After making a few complicated phone calls, I was told that the pilot and the farm responsible would be issued a warning. Although I was able to get a response, it made me think about the voiceless, almost invisible community that puts food on our tables. Near the end of our trip, we shared what we had heard and seen across the state with the staff of California Assembly members in Sacramento.
On the final day, our team hiked to a beautiful waterfall in Yosemite National Park. It was one of the most amazing experiences UCI offered me. Our accomplishments were unbelievable, and the memories were unforgettable, but most importantly, the hardships of Latinos in California were heartbreaking. These experiences strengthened my passion to advocate for vulnerable populations and encouraged me to be a leader in my community to improve the lives of Latinos.
I am thankful to UCI for giving me this experience.
*Image provided by Graciela Maldonado.